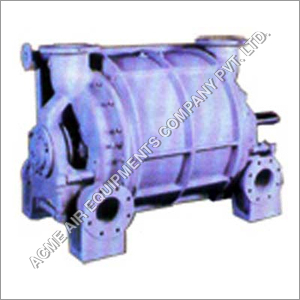 Water Ring Type Vacuum Pumps
Product Description
We are a specialist firm, which is offering Water Ring Type Vacuum Pumps. Manufactured with optimum quality metals, offered pumps are ideal for moisture extraction and vacuum filtration, distillation & condensation. It is offered in suitable construction and different capacities to meet the process requirements. Our Water Ring Type Vacuum Pumps are widely used in chemical industries, oil refineries, petrochemical industries and various other areas owing to their efficient functioning, low maintenance and robust construction.

Other details:
Water ring type Rotary Machines are mainly used as vacuum pumps.

However, the machines can also work as compressors in particular cases. These machines are uncomplicated and hassle free in operation. The range is good at tacking moist air along with reactive gases given the construction material is ideally selected.

Gases having dust can also be tackled without any problem.

Water ring Compressors/ Vacuum Pumps are totally free from oil with no risk of contamination to the media going through it. The ring liquid works as seal and it also ingest the heat produced at the time of compression. Provided gases to be handled, various types of fluids can be applied for sealing in place of water.

Salient Features:

Dimensions and specifications are tentative and may change.
50% relative humidity with 300oC seal water temperature at 1.5 Kg/cm2pressure.
The Power specifications are only for the Vacuum Pumps. For Water Ring Compressors, customers are advised to send query further details.
The Vacuum Pump performance displayed here is estimated at 760 mm Hg barometer (sea level)
Guaranteed vacuum up to 710 mm Hg. at close suction and 760 mm barometric pressure
Suction capacity outlined is maximal suction capacity with open suction.
Higher vacuum can be obtained by making use of chilled water as seal medium or ejectors
All necessary accessories needed to start the pump are provided with the pump.
Automatic Moisture Extraction
Comes with Vacuum Distillation
Vacuum Filtration
Available with Priming
Auto Evaporation of Acids

Also Removes Water from Paper Pulp.
Trade Information
Asia, South America, Eastern Europe, Western Europe, Middle East, Africa

All India