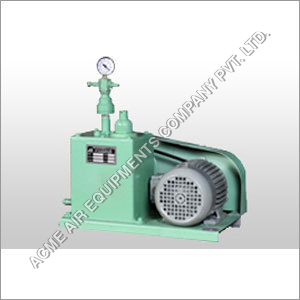 Oil Sealed Vacuum Pump
Product Description
Understanding the prime need of the market, and also the shortage of quality player in the market, we have gained a distinctive position in the industry by offering high quality oil sealed vacuum pumps. As a trusted manufacturer, supplier and exporter, we have created a specific market and a long list of satisfied clients who appreciates our rotor, and electric motor system of our vacuum pumps. These pumps are user-friendly, gives trouble-free operations and longer functional life. The sturdy construction of these pumps are quite distinct from our competitors' products.
Other details:
An ISO 9001:2008 company, Acme Air Equipments Company Pvt. Ltd. deals in quality proven, efficient and accurate Oil Sealed Type high Vacuum Pump.

Generally, this is one of the most used type of Vacuum pumps for generating pressures up to 5X10-3 mbar in single stage and 5X 10-4 mbar in two stage functioning. The internal machinery is lubricated by oil and comprises an eccentric rotor and a stator. The rotor is equipped with two vanes around the periphery and kept apart by a spring.

The rotor accomplishes the discharge and suction in a single go. A non-return valve at the exit point of port restricts the reverse flow of gas/air

Given below are some remarkable features that ascertain safety of pump along with hassle free operation:

Gas Ballast: It permits an inert dry gas or atmospheric air to be entered into the pump prior to compression stage. This restricts condensation, thus, preventing the deterioration of oil.
Air admittance Valve: This is a solenoid operated pneumatic valve that permits air into the system at the time of unwanted power cut, thereby checking the backward flow of the oil.
Non-return Valve: A spring loaded diaphragm type valve, it restricts the backward flow of oil at the time of pump stoppage.
Moisture trap: Moisture impacts performance of the pump in a detrimental way and contaminates the oil. The moisture trap is, therefore, fixed at the inlet port to eliminate the air moisture.
Inlet Dust Filter: The functioning chamber parts such as stator, rotor, and side plates are engineered with highly accurate tolerances and at the time of operation they function with extremely fine tolerance. Thus, it is compulsory to restrict the entry of solid/dust particles into the pump. Eventually, the in-line inlet filter makes sure that air/gas flowing into the system are free from solid particles.
Vacuum Gauge: An ideal gauge congenial to the environment in which it functions, range of measurement and scale can be provided. It can be offered with a regulator if needed.
Trolley: It provides mobility to the pump. Commonly, suitable for smaller pumps.
Technical Specifications

Model

No. of stages

Displacement

Ultimate Vacuum mm of Hg. (A)

Motor KW

Approx. Oil Fill Ltrs

Lt./Min

M3/Hr

AHV-50

1/2

50/50

3/3

0.05/0.005

0.18/0.18

2/2

AHV-100

1/2

100/100

6/6

0.05/0.005

0.18/0.37

2/3

AHV-150

1/2

150/150

9/9

0.05/0.005

0.37/0.75

3/4

AHV-300

1/2

300/300

18/18

0.05/0.005

0.75/1.1

6/8

AHV-500

1/2

500/500

30/30

0.05/0.005

1.1/1.5

7/8

AHV-750

1/2

750/750

45/45

0.05/0.005

1.5/2.2

8/10

AHV-1000

1/2

1000/1000

60/60

0.05/0.005

1.5/2.2

15/20

AHV-1500

1/2

1500/1500

90/90

0.05/0.005

2.2/3.7

20/25

AHV-2000

1/2

2000/2000

120/120

0.05/0.005

2.2/3.7

25/30

AHV-3000

1/2

3000/3000

180/180

0.05/0.005

3.7/5.5

35/40

AHV-5000

1/2

5000/5000

300/300

0.05/0.005

5.5/7.5

40/45

AHV-7500

1/2

7500/7500

450/450

0.05/0.005

7.5/11

60/65

AHV-10000

1/2

10000/10000

600/600

0.05/0.005

11/15

65/75