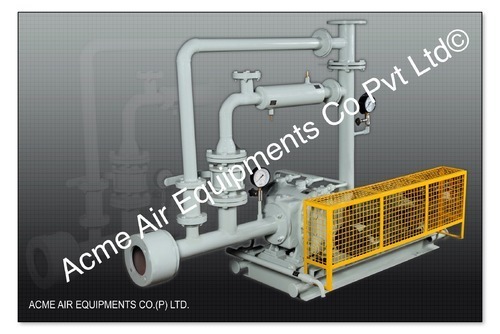 Industrial Gas Booster
Product Description
ACME gas boosters offer maximum value of 1400m3/hr and a highest pressure lift of 75m bars. Customized duplex and triplex boosters sets are available as per the requirement of duty standby systems or other redundant system. The system comprises a modified electrical panel with a time clock changeover facility to properly make sure equivalent time runs on each unit. Further, this model is constructed on a MS (mild steel) base plate that has four lifting points. It also contains two boosters that are placed on anti-vibration footing along with individual booster starters and overloads. With a 7-days timer included, all types of boosters have the option of variable speed drive.
Features:
Huge safety level due to cast iron material construction
Low noise
Due to flat curve attributes, it is perfectly suited for different burner applications
Superb efficiency and back-directional bladed fan supported accurate ground shaft
Available in ATEX versions
Flexible speed drive selections available
Simple to install and operate
Compact and lightweight design
No electric power or lubrication required
Available with variant pressure and compression ratios
Applications
Gas pressure & outflow testing
Low pressure gas regain from storage bottles
Oxygen boosting
Boosting gas pressures from oxygen generators
In Nitrogen injection for molding machines
Breathing air systems for emergency fire department tanks and scuba tanks
Leak detection systems
Generally cover gases including air, oxygen, nitrous oxide, helium, neon, argon, ethylene, methane and natural gas.
Bio gas specification: Derivatives built with stainless steel, components are available for use with corrosive gases including bio gases which emit high concentrations of H2S.
Best suited alternative to the electrically driven systems, gas boosters are the perfect fit to the requirement of oil free density of air and gas. These boosters find use as carbon dioxide, natural gas, argon, xenon in explosion-proof areas. As the pressure shouldn't exceed from 5,000 psi, industrial gases can have a compressed pressure of as high as 36,000 psi. Shipped after being assembled and completely tested, the air driven gas booster systems are absolutely ready for installation.